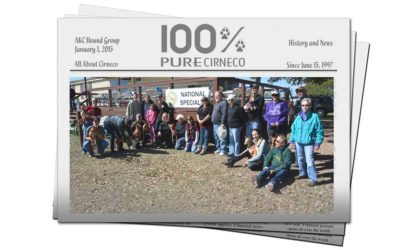 Dates:  September 17 and 18, 2016, with performance events also available on September 13, 14, and 16, 2016. Location: Purina Farms, Gray Summit, Missouri. Visit the website for Purina Farms to learn more about the Purina Farms Event Center, as well as area lodging,...
read more
FROM THE EDITOR
The Chat is now QUARTERLY! Want to make sure your Cirneco appears in the Fall issue? Here are some ideas…
Does your dog have a birthday coming up?
Do you have a favorite recipe (something your hound loves or something just for humans)?
Do you want to put in a remembrance of a special Cirneco family member you've lost?
Any of these PLUS brags, photos and stories should be emailed to editor Margie Luck at chat@cirneco.org by October 15, 2016.
WELCOME TO OUR NEW CdECA NEWSLETTER MEMBERS
∴ Lily Bennett of Vancouver, Washington
∴ Sandra Dowdy of San Leandro, California
∴ Marianne Klinkowski of Cupertino, California
∴ Cheryl McDermott of Ethel, Washington
∴ Kari Mundschau of Denver, Colorado
∴ Dennis Schmidt of Las Vegas, Nevada
FROM THE EDITOR SPECIAL REQUEST
Make sure if you attend the Specialty to take lots of photos so that we can have everyone represented in the Chat!